Navratri Chaniya Choli Collection Online
Navratri festival is one of the most popular occasions in India. It is celebrated in almost all parts of the country, from Gujarat, Punjab and Tamil Nadu to Bengal and Rajasthan, but the most colorful and profuse celebrations take place in Gujarat. It takes place multiple times in a year.
Sharad Navratri is one of the most, if not the most, important festivals in Gujarati culture. The festival celebrates the triumph of good over evil, with goddess Durga being the key deity at most celebrations.
She is celebrated in all her different avatars in India during this nine day festival. Taking place sometime in September or October, this festival culminates in the splendid Dushera or 10th day celebrations.
Each of the preceding 9 days holds a different significance altogether. In Gujarat and nearby states, Navratri celebrations include night long dance festivals in which people gather to dance to traditional and modern music. Though this is used as an opportunity to celebrate and party by most young people, the traditional element is still strong.
Navratri chaniya choli online shopping are extremely colorful and traditional in their look. This is the time to dress up to the nines with no efforts spared. People spend months putting together the perfect ensemble for each day of this festival.
Festive Wear
Navratri dresses are carefully chosen with every aspect, from the color and cut to the designs, work, silhouette and embellishments, getting due attention. Many women prefer to wear glorious, personalized outfits for each day of the festival that are not only traditional but also stylish.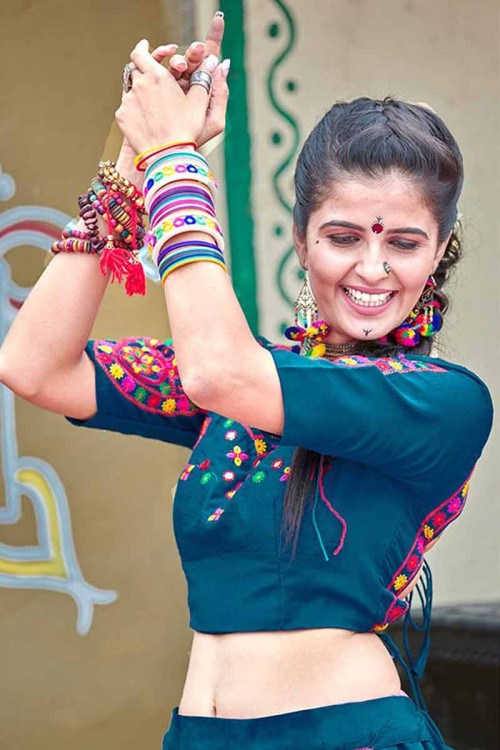 A different color is supposed to be worn on each of the nine days in navratri. Many celebrations have an award or multiple awards for 'best dressed'. Moreover, in most communities, Navratri is the time when people get to flaunt their fashion sense. People wait for this time of the year so that they can deck themselves in bright and beautiful Navratri costumes of different types. Navratri fashion encompasses many different types of outfits.
Navratri Festival Special Collection
During navratri, there are many performances held like dancing and singing. There are a myriad of designer navratri chaniya choli online available that will make you look absolutely spectacular while performing on stage.
Whether you are depicting how Durga Devi killed Mahishasura through a traditional dance, or reenacting Ram killing Ravana and saving Sita, you are spoilt for choice for the number of gorgeous ethnic wear that will look great for the stage.
Navratri Chaniya Choli Colors
When it comes to colors, pastel shades seem to be the name of the game, especially for Navratri. A common misconception is that pastel shades don't really work well with traditional Navratri dress styles, lehenga choli online shopping when in fact pastel shades could not work any better for this festive festival. Floral prints designs with minimalistic prints and embellishments really work well with pastel shades.
Navratri Outfits
Navratri is a sensory overload of all color and dancing, an interesting way to mix things up for your anarkali, kurti and salwar suit online shopping styles is to use colorful dupatta that will really amplify your look to exceptional extents. Although traditional wear are generally preferred for Navratri, you can always try something new and go the latest trendy route by pairing voguish outfits that go well together, instead of the usual chaniya choli, gharghra choli and Lehenga choli styles. One such combination that really threads works well is the pairing of long kurtas with palazzo salwar suits which will really help you out in breaking out all those new fancy moves you have in store for the dance floor.
Mirror Work Silk for Navratri Festival
Chaniya Choli is the dress code for the festival of Navratri. Conventionally, Garba Chaniya Choli is available in silk to facilitate comfort and breath-ability.
Black designer banglor silk navratri dresses is beautiful mirror and sequence work. Black color festival lehenga choli is banglori silk fabricated lehenga and choli with chiffon fabric dupatta.
Chaniya Choli in Prints for Navratri
Moderate to the eyes yet attractive in glance, this uniquely styled print lehenga choli is in fantastic print like 3d, floral and block print. Eye-catching printed lehenga has light in weight and easy to handle while playing garba.
Tafetta Silk Teal and Blue Navratri Chaniya Choli
Tafetta silk teal and blue navratri chaniya choli online shopping at best prices. Teal and blue chaniya choli is tafetta silk fabric with fancy design digital printed work. Teal and blue color lehenga choli large collection available at best prices.
Navratri Lehenga in Soft Cotton Fabrics
Nowadays Navratri lehenga is available in soft cotton fabric but also accessible in luxurious fabrics like silk, satin, crepe, chiffon, Georgette and velvet are also being use.
Soft Cotton Yellow Lehenga Choli
Soft cotton yellow lehenga choli online shopping. Yellow color chaniya choli soft cotton fabric lehenga and green color choli with pink color aari, table print cotton fabric dupatta. It is beautiful digital printed with lace work.
Layered Chaniya Choli
The multiple layered navratri chaniya choli collection accentuate with traditional embroidery on hemline and waistline, and a matching blouse featuring detailed work on the neckline and sleeves accompany by a bright contrast color dupatta, was trending now a days.
Soft Cotton Traditional Chaniya Choli
Teal green soft cotton tradional chaniya choli is beautiful resham embroidery work. Teal green color lehenga choli is soft cotton fabricated lehega and white color choli. Buy teal green color chaniya choli online at best discount prices.
Kali Lehenga choli for Navratri
This simple yet sophisticated kali lehenga choli design is sure to turn heads in the crowd. Pair the hand-embroidered blouse in vibrant colors with a plain kali-style lehenga with contrast border, a best option to flaunt your curve. Pair with top flaps gives you bold and modern look.
Soft Cotton Black Traditional Lehenga
Soft cotton black traditional lehenga choli is beautiful resham embroidery with real mirror work. Black color navratri chaniya choli is soft cotton fabricated lehenga and choli with aari, table print cotton fabric dupatta. Shop black color navratri dandiya dress online at best discount prices.
Trends of the Moment
Shopping Online has become a huge commercial trend in the world, which has enabled women residing in different countries to find and buy authentic Navratri chaniya choli online. There are many beautiful, traditional accessories, which they can purchase to complete the ensemble.
Women often opt for heavy oxidized silver jewelry sets consisting of an ornate necklace, bangles, earrings and mang tikka. This is a typical combination used to accessorize Navratri chaniya cholis.
However, women can also go for interesting alternatives like colorful glass bangles, Indian jhumka earrings online shopping nose rings or nath and much more. A pair of colorful, embroidered jutis in a matching shade/s will complete the ensemble perfectly.
Resham Thread Jhumkas Pearl Work
Resham thread jhumkas pearl work beautiful earrings set. Pearl jhumka with stone and pearl work online attractive offers. Shop beautiful resham work jewellery.